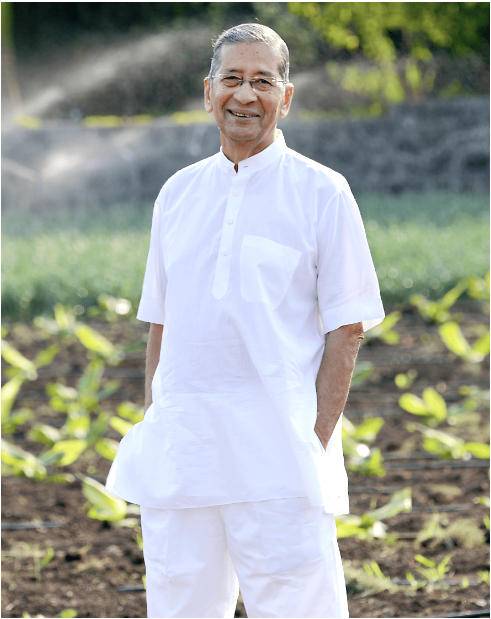 "Leave This World Better Than You Found It"
Padma Shri Bhavarlal H. Jain
Founder
Shri Bhavarlal Hiralal Jain (Bhau) was born in Wakod, Jalgaon district, Maharashtra on 12th December 1937. Bhau's primary schooling was at Wakod, later he went to Jalgaon to complete his schooling. He passed his Secondary School Certificate Examination from Raosaheb Rupchand School, Jalgaon in 1957. He completed his B.Com degree from the University of Bombay in 1961 and further proceeded to complete his LL.B degree at the Government Law College, Churchgate, Bombay in 1962.
Despite qualifying in the Maharashtra State gazetted officers' exam, he chose to opt for a career in business. This was rather an unusual step for a young man whose forefathers had migrated from Rajasthan to Maharashtra in the 1890s in search of greener pastures. Bhau's business acumen was evident from the very beginning. He started his business under favourable circumstances.
In a span of one and a half decades, 1963 – 1978, a firm foundation for a lasting enterprise with a vital difference was laid.
A family owned enterprise was shaped to become a corporate institution. The opening team acquired consummate marketing skills, versatility to build different businesses, and a businesslike approach towards trading partners. These attributes were additions to the innate qualities of thrift, hard work, simple family living, and commitment towards social responsibility. On 5th May 2008, Bhavarlal Jain was commemorated with the prestigious Padma Shri Award by Government of India in Rastrapati Bhavan, Delhi for his invaluable contribution towards "Science and Engineering".
On 25th February 2016, Shri Bhavarlal Hiralal Jain passed away at the age of 79 after a brief illness at a hospital in Mumbai.
He was a man of small ideas which created big revolutions. He practiced what he preached and he built his entire business on a foundation of inclusiveness and sustainability over the last five decades.
"Anubhuti is the long-cherished dream come true for Padma Shri Dr. Bhavarlal H. Jain, the visionary Founder Chairman of Jain Irrigation Systems Ltd."
Construction
Laying the foundation to a better India - Anubhuti